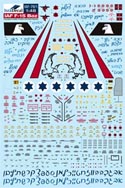 1/48IAF F-15A/B/C/D 'BAZ' DECAL SET (IAF-79)
"This new decal sheet from IsraDecal includes markings for 23 different 1/48 IAF F-15 Baz. The 8 page instruction booklet includes a reference photo for each Eagle depicting aircraft from the late 1970s to 2006.
One thing I really appreciated was the 2 sided 24" x 18" poster showing the placement of the hundreds of stencils, tactical numbers, national/squadron insignia, formation light panels, kill marks and Hebrew names and letters for additional aircraft names not pictured in the instruction booklet. Also included is a typical Israeli F-15 camouflage color painting 4-view guide.
The decals are beautifully printed on 1 decal sheet and 3 insert decal sheets. You also get stencils for the weapons pylons, conformal fuel tanks and centreline drop tank.
The instruction booklet is loaded with those wonderful photos of the real jets that IsraDecal is famous for.
IsraDecal is the industry leader in markings for Israeli aircraft and this sheet is exactly what you need if you are building an Isreali F-15 Baz."
Review by Steve Bamford, www.aircraftresourcecenter.com on Sep 29 2009
IAF F-16I 'SUFA' IN IAF SERVICE - 2009 EDITION BOOK
"This new soft cover book from IsraDecal is the 5th publication in their popular 'Aircraft in Detail' series. This book includes 100 pages packed full with over 600 photos. These are the type of photos that modellers crave as they strive to get the details and markings correct on each of their models.
This book is authored by Ra'anan Weiss, so you know the topic is covered with exhaustive devotion. Ra'anan is a modeller and he knows what modellers want. The size of the book is 21x28 cm. You get colour profiles 4 different side view profilesfor the F-16I Sufa with 4 different squadrons.
You also get a 4 view colour profile showing the complicated camo layout of the F-16I Sufa in IAF Service. The book begins by telling the history of the F-16I Sufa in IAF Service from it's purchase in 1999 and all the advanced features that make this version of the F-16 truly unique. The book then includes in-flight photos showing this jet in action as well as on the ground at its bases undergoing maintenance. Then the book gets really interesting for the modeller.....you are treated to page after page of exhaustive close-up detail photos showing all the many tiny details of the F-16I Sufa. These photos include the cockpit, landing gear and bays, and the pylons as well as all the various weapons carried by this jet.
If you're building the F-16I Sufa in IAF Service, then this book is a must-have. Also check out the IsraDecal website for all their resin conversion sets and decals for this and other Israeli aircraft in a variety of scales."
Review by Steve Bamford, www.aircraftresourcecenter.com on Sept 10 2009
"The F-16I has been turned into a much more efficient bomber than the F-15I due to the addition of the conformal fuel tanks above the wings. These are made in Israel based on tests in the US that proved they worked as advertised. What it has done is allow the aircraft to have the same range as the Ra'am, but to do so at a lower cost of only one engine. In addition, the cost of the Sufa is only 60% of the Ra'am. All F-16Is are two seat aircraft and can carry a prodigious number of weapons, both those developed overseas and those developed indigenously.
The aircraft has now entered service with four squadrons and each of them is covered in considerable detail. In fact, it is the color photography that really draws one to this book.
This book follows the same general format as their other publications. There is a short history of the type and a description of its capabilities, weapons and camouflage. Then there are sections on each of the four units, a superb walkaround, and a look at all the different things that can be carried by the aircraft. It is obvious that the author was given pretty much full access to these aircraft as I don't see that anything was missed!
All of the different unit tail markings over the years are fully catalogued and there are also some well drawn profiles to add to things. The bottom line is that this is the finest publication yet available on the type and a superb companion to their decal sheets. A MUST for enthusiasts of the IAF and for any modeler who wants to accurately portray the type in plastic."
Review by Scott Van Aken, www.modelingmadness.com on September 2009
1/48 IAF MOSQUITO DECAL SET (IAF-72)
"This new decal sheet from IsraDecal includes markings for many 1/48 Israeli Air Force Mosquitos in 3 different paint schemes. These decals include T Mk.3, FB Mk.6, PR Mk.16, NF Mk.30 & TR Mk.33.
The 8 page instruction booklet is clear and includes color profiles and a 3 view profile showing stencil placement. The paint schemes include a Yellow trainer paint scheme, a Silver Dope scheme and a brown/green camo scheme. There are a variety of national insignia and these are available on this decal sheet. Some of the planes do feature noseart and/or stripes on the wingtips. The decals are beautifully printed on 2 decal sheets.
You get enough markings to do more than one aircraft. Some of the aircraft featured on this decal sheet are only featured in one vintage black and white photo, but most have one color profile to guide you. There is enough info there for you to figure out each aircraft as the photos are marked with the location of each decal #. The plane numbers are separate decals, so you could mix and match numbers to create almost any Israeli Mosquito you choose."
Review by Steve Bamford, www.aircraftresourcecenter.com on Feb 10 2009